Brands are living things. From Nike to Uber, the largest and most successful companies in the world are continually revisiting and adjusting their brand to stand out and better connect to their audience.
Whether you're repositioning your brand for a new market, launching a new product line, or gearing up for a milestone anniversary, a brand relaunch often marks the crux of a company's evolution. Depending on your needs, this could mean anything from a simple logo update to completely overhauling your core values and the way that you do business. 
When done correctly, a rebrand gives companies a fresh way to both engage with current customers and introduce yourself to potential new ones. That's why it's crucial to think ahead and sync your marketing efforts with your rollout strategy in order to make an impact. 
Brand Rollout Tactics
Your strategy will depend on your specific business needs, but should include a combination of communication tactics like email newsletters, social media posts, and even media outreach.
Spread the news
If your website has a spot for news and updates (and it should), find a way to tell your customers about your new look. Write a blog post that details what's new, taking time to describe why your process drove all the decisions, how your new high-tech website has improved functionality, that the revamped logo better represents the direction and goals of the company—whatever excites you and will excite your customers. 
Or, go the extra mile and create an announcement video that highlights all of the above, like this one that we created to showcase the new brand for Gibbs & Register: 
Tell the press
For some companies, your rebrand rollout strategy might include press outreach to let industry and consumer media know about the change. For example, if you're a company with heavy ties in the local community, consider reaching out to the business section of your local newspaper. Keep in mind that not every rebrand is going to be news-worthy, so think about what makes yours significant and interesting for readers.

Get social
Try to get creative when planning on how you'll announce your new brand on social media. Take to social media channels like Facebook and Instagram. What does it mean to your customers? Be prepared to tell them.
Take note from Orlando Sanford International Airport (SFB). After partnering with us to reposition their brand in a modern way, we used a brand launch video to announce the airport's new look and feel. If you're interested in learning more about that particular project, head over to our Solutions page to read about it. 
Write an article
Did you learn about something significant during the rebranding process? It might interest others in your industry as well. Offer to write a guest article on the topic for your favorite trade publication. You'll be seen as a thought leader—and might even attract some new customers. Just make sure you aren't overly-promotional—your guest article should provide a valuable takeaway for the reader, not just act as a plug for your product.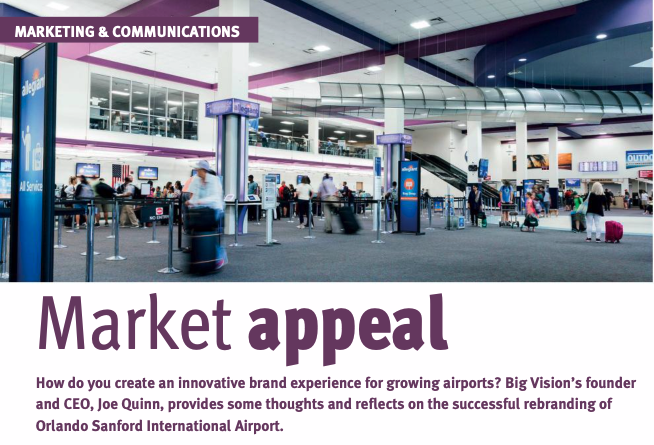 We recently wrote a guest article for Airport World magazine that discussed our strategy behind the development of SFB's new brand and website. We discussed the importance of building a strong brand for regional airports that want to compete for market share by enticing budget-conscious passengers from major airports. You can read an e-version of the issue here.
Track your analytics
Don't just launch your website and be done with it. In addition to creating a thoughtful communication strategy to tell customers about your new look, you should track its results. Keep an eye on your web analytics to track changes in user traffic, referrals, new leads, and other KPIs. Understanding how your new brand is performing will help you make better-informed business decisions and design new marketing strategies down the road. 
We'll get you there
Whether you're wondering how to best roll out your new brand, or want to figure out what that new brand could even look like, we're here to talk. Get in touch with us today to talk about what you envision for your company's future.