In times of economic uncertainty or unstable business environments, brands must be deliberate about where they allocate their resources. Recently, digital marketing has quickly transitioned from an important part of any brand's marketing mix to the exclusive location of audience interactions. Almost overnight, traditional out-of-home advertising placements have become obsolete as consumers adapt their lifestyles and spending habits in light of this new normal. Once successful means of driving awareness and sales are no longer viable options, and brands are faced with the task of capturing and keeping their consumer's attention in what is already a crowded digital sector. 
Many large organizations have shifted their product focus to align with recent events or have completely changed their marketing approach to seem more sympathetic to consumers. LVMH has begun to produce hand sanitizer while Ford has pulled all traditional TV ads and replaced them with a response campaign. These are certainly options that other brands can follow, but are they the right use of funds for those that are not multi-billion dollar companies? How can smaller brands continue to drive sales?
Revenue is the lifeblood of any business. Without it, doors shutter and employees' lives are changed. Many sales organizations have historically relied on a primarily relationship-based outbound mindset to fuel growth. Trade shows, networking events, in-person meetings, and cold calls have had their place in the outbound methodology for some time.  While these have been an acceptable approach in recent memory, reaching consumers through traditional outbound methodologies is simply untenable given the move to a more digital day-to-day existence. 
As nearly two-thirds of the US population has been affected by stay-at home orders, the foundation of any new sales effort must be a strong marketing strategy with an acute focus on sustainable initiatives behind paid and owned media production. 
Almost overnight, traditional out-of-home advertising placements have become obsolete…
To rise above the noise and reach their intended audiences, brands must be thoughtful about what messages they are sending and how they plan to distribute that messaging given new consumer trends. Shifts in consumer behavior have vastly impacted the paid and earned media models, changing a once evenly split effort to an unbalanced formula reshaping how brands should approach digital marketing as a whole. 
According to Pubmatic and the IAB, March saw global ad spends across news outlets and publishers increase by 52% while more traditional buyers like travel and sports brands have decreased their buying by 65% and 40% respectively. This is indicative of a changing media landscape that brands are struggling to navigate.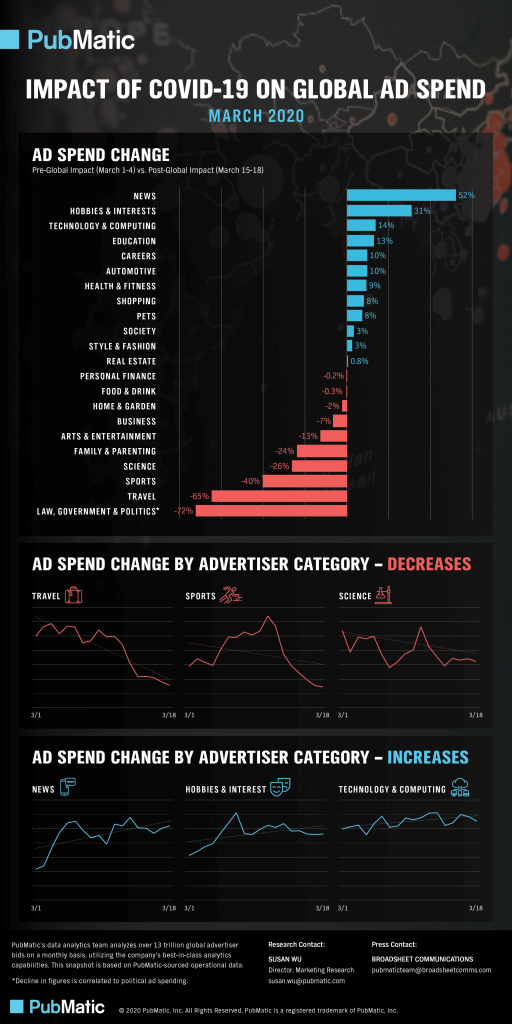 The paid media model is changing and the thoughtful allocation of budget is something that many brands are grappling with. As more and more consumer-focused brands feel the pinch of decreasing sales and alarmist economic talking heads, paid media budgets are suffering as a result. With fewer marketing budgets to deploy, brands must be more realistic with their goals and judicious with their spending. Now more than ever, accurate targeting and channel placement are vital to the health and prosperity of brands looking to reach their consumers through paid media initiatives. Budgets previously managed and optimized by programmatic trade desks are now transitioning to human oversight and broad approaches to publisher partners are narrowing substantially. Essentially, marketers are now looking at paid placements to do "just well enough" as increases in click performance no longer correlate to conversions on the same scale.  Careful analysis of the "why" behind the utilization of programmatic partners, platform placements, and bid strategies has never been more important—and something with which most brands have had very little experience.
Spending funds on paid media to "buy" sales now requires considerable effort to develop a comprehensive strategy that leverages owned media in novel ways.
Owned media has always been the backbone of digital marketing but is becoming arguably the most important aspect of a brand's digital presence. In a digital environment where search terms and consumer perceptions are driven more by headlines than need, owned media assets are the only content that a brand truly controls. Reallocating some of a paid media budget to owned asset creation is an interesting way to not only weather the storm but also lay the groundwork for inbound funnels once the climate returns to normal. Here, paid should be seen as a means to supplement owned through increasing traffic—moving away from a direct sales conversion mindset.
The evergreen nature of owned content presents its own unique challenges, however.  Brands need to be cognizant of what is included in their content and walk a tightrope of addressing the "now" without becoming so topical that whatever is produced doesn't age well. Applying a brand's own unique solution to current challenges may seem like the best approach, but what happens when that challenge isn't so… challenging? Taking a step back from a content strategy and identifying the "why" behind it is sometimes difficult to do and may require an extra set of eyes. 
Providing opinion and experience that allows the consumer to develop their own conclusion that a brand's solution is the right one is the name of the game here. When done correctly, solution-oriented content should be presented in a way that offers more insight than soliciting sales. Thought leadership needs to be just that – thoughtful.
About James:
James is Big Vision's Marketing Director.  As an experienced entrepreneur and digital marketer, he has spent over ten years building new departments and designing innovative business models that solve challenges facing some of the largest brands. During his career, he's launched SaaS concepts, brought operations to international markets, opened new opportunities in the small to medium business space, and developed the first formal training programs at the world's leading influencer and content marketing company.
James is a  proud pug dad and avid watch collector. When he's not traveling the world with his wonderful wife, he's  escaping to the garage on weekends to wrench on his 1970 Datsun 240z.
If your brand is struggling to understand where or how to leverage paid and owned media in the current climate, please follow this link to schedule a free 30 minute consultation with us.